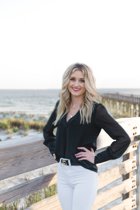 Hi, I'm Alyssa Barnett. I'm the Buyer's Agent for Keller Williams Realty's At The Beach Team, a Top Producing Team that sells more than 200 properties a year.
As the Buyer's Agent for our team, I am always looking for great deals to tell my client's about so they can get a jump on them before everyone else. If you would like to get my best deals as soon as they hit the market – simply text me at 916-710-3744 or send me an email at AlyssaBarnett@AtTheBeachTeam.com and tell me if you are looking for a condo, house or land I will make sure you get the best deals sent to you.
Alyssa Barnett's Real Estate Deals - Miramar Beach Condo - Crystal Sands Condo B204
Why is this a terrific property?
1. Great Location - Directly on the beach.
2. Second floor - Great Views.
3. Perfect Investment Property - Rental income can get as high at $60K per year.